Parish Clergy
Father Gregory Christakos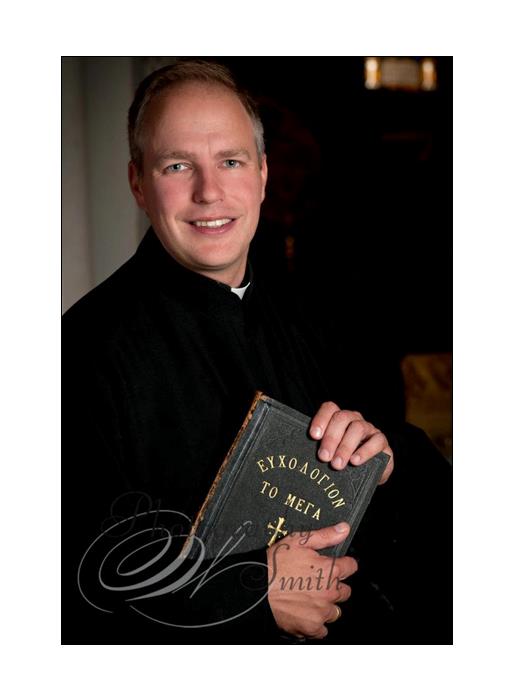 Fr. Gregory was born in Lawrence, Massachusetts, and grew up in nearby Methuen. He is the son of Christos Christakos and the late Carol (Casale) Christakos. As a child Father attended Sts. Constantine & Helen Greek Orthodox Church in Lawrence and Andover and would later become the first young man from that community to be ordained.
He graduated with honors from the University of Virginia and Holy Cross Greek Orthodox School of Theology and also studied at Oxford University and St. Vladimir Orthodox Theological Seminary. While in school Father played rugby and was active in many organizations.
After graduation from seminary, he was married, and then ordained to the diaconate and priesthood by Metropolitan Methodios. He spent six years as the assistant pastor at St. Spyridon Cathedral in Worcester.
He is a member of the Middle East Studies Association and the Association for the Study of the Middle East and Africa, and is a senior fellow of the Sophia Institute of Union Theological Seminary. Among his many interests are Semitic languages and Near Eastern History. He is an avid outdoorsman and musician.
Father spent five years on the board of directors of Holy Trinity Nursing and Rehabilitation Center and has been a member of AHEPA since 1996.
Fr. Gregory, Presbytera Eleni, and their two daughters officially joined our community on our feast day, November 1, 2011, and the next summer welcomed a son to their family.

Read Fr. Greg's blog at www.devshirme.com and follow him on Twitter at @FrXtakos



---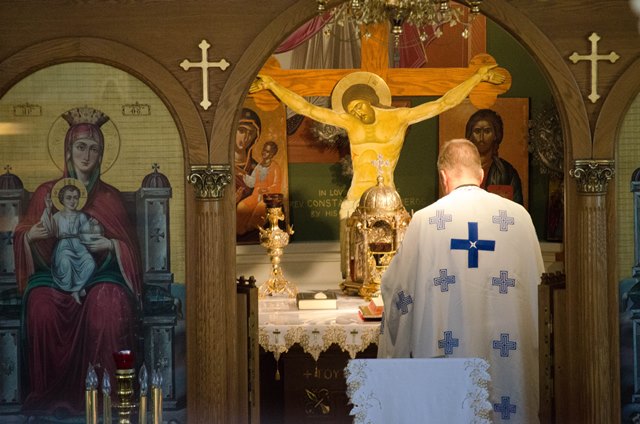 Father's Messages - Archives



Click below to read previous messages:
Father's Message
Suffering and Healing
We traditionally celebrate our parish feast day on November 1 – the feast of Sts. Cosmas and Damian of Asia Minor. However, our parish is named after all of the Holy Anargyroi or unmercenary saints -saints who healed through medicine and prayer who refused payment for their services. The various unmercenary saints have feasts throughout the year – Tryphon on February 2, Sampson the Innkeeper on June 27, and many more. These feast days for our special saints are nice reminders of what healing is in the Orthodox tradition.
When we think of healing we usually think of curing, and indeed the Anargyroi were often able to cure people of ailments, just as Christ did in the Gospel accounts. But like Christ, they went beyond just curing but healed those who were suffering. Healing is an all-encompassing concept in the Orthodox tradition. When the woman with the flow of blood was healed by Christ, she was cured of an ailment but also her public honor was restored. Physical pain and breakdown is a big part of illness. Along with this comes things like isolation – when one is suffering very often his social life disappears or changes radically, to use just one example. Family members suffer along with the person who is ill and they too are in need of healing. Healing is something that goes beyond curing and affects all who are in the lives of those who suffer.
St. Nectarios (not an unmercenary saint, for he was not a physician but rather a monk) reposed in 1920 after suffering from cancer. He is known to appear to cancer patients and sometimes these patients are cured. However, he is also known to appear to cancer patients who end up succumbing to the disease; his appearance, though, comforted the sufferers and prepared them for the end of earthly life. This too constitutes healing in our tradition – the assurance that all will be well when the end comes.
Our main feast day and the many others on the Church calendar that commemorate saints who were given the title Anargyros are welcome and frequent reminders that when we or a loved one are suffering we take comfort in our faith and the Orthodox tradition of healing.