Parish Clergy
Father Gregory Christakos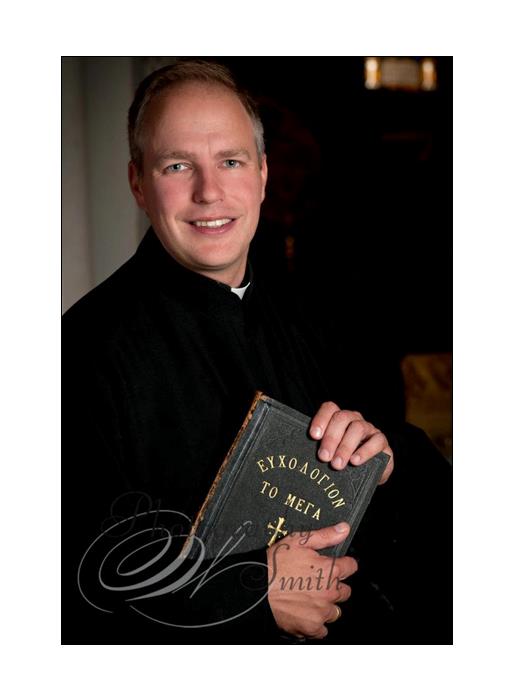 Fr. Gregory was born in Lawrence, Massachusetts, and grew up in nearby Methuen. He is the son of Christos Christakos and the late Carol (Casale) Christakos. As a child Father attended Sts. Constantine & Helen Greek Orthodox Church in Lawrence and Andover and would later become the first young man from that community to be ordained.
He graduated with honors from the University of Virginia and Holy Cross Greek Orthodox School of Theology and also studied at Oxford University and St. Vladimir Orthodox Theological Seminary. While in school Father played rugby and was active in many organizations.
After graduation from seminary, he was married, and then ordained to the diaconate and priesthood by Metropolitan Methodios. He spent six years as the assistant pastor at St. Spyridon Cathedral in Worcester.
He is a member of the Middle East Studies Association and the Association for the Study of the Middle East and Africa, and is a senior fellow of the Sophia Institute of Union Theological Seminary. Among his many interests are Semitic languages and Near Eastern History. He is an avid outdoorsman and musician.
Father spent five years on the board of directors of Holy Trinity Nursing and Rehabilitation Center and has been a member of AHEPA since 1996.
Fr. Gregory, Presbytera Eleni, and their two daughters officially joined our community on our feast day, November 1, 2011, and the next summer welcomed a son to their family.

Read Fr. Greg's blog at www.devshirme.com and follow him on Twitter at @FrXtakos



---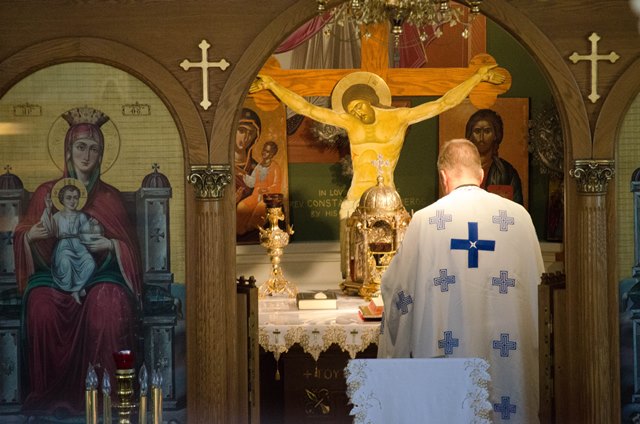 Father's Messages - Archives



Click below to read previous messages:
Father's Message
An Encounter
We've all heard the expression "God works in mysterious ways". The phrase is not from the Bible; it is actually a misquote from a Protestant hymn. Nevertheless, I think most of us probably agree with the sentiment. In the calling of Peter by Christ (the most detailed account is in Luke), we see God working in ways we probably wouldn't expect.
Christ comes to Peter, as he so often does in his encounter, in need - he wants to preach and needs Peter's boat to use as a pulpit, or place from where to speak (the custom then, unlike now, is that the speaker would sit and address standing crowds). Jesus is asking a lot here.
He wants Peter to let him use his boat, which would preclude earning money from fishing. Also, Peter would have to work hard controlling the boat while Jesus preached - the boat would no doubt be constantly trying to move one way or another. After speaking, Christ then instructs Peter and his fellow fishermen on how to fish. Remember, these are hardened men who work hard and have spent the whole day fishing and not catching anything. Imagine a modern fishing dock and you can get an idea of the mood. Yet Jesus speaks with authority, even though he is a carpenter, not a fisherman. Peter listens to Christ, though hinting that he is humoring him, and proceeds to pull up a huge catch of fish.
Such a windfall would mean a lot of money for these fishermen. But Peter and his crew decide to leave it all behind and follow Christ. Jesus came in need to Peter but also challenged him to go beyond himself. He does this with us as well. Christ comes to us in need in the sense that we are his people doing his work. He challenges us in confronting our sense of comfort and satisfaction.